Expo activities, features and prizes!
Discover cutting-edge technology and the most up-to-date innovations for their organizations at the World Workplace Expo.
Learn, network and explore the expo
From educational sessions and product demonstration to one-on-one discussions with the leaders in FM solutions, the expo is where you'll find the best products and services for your facility needs. Learn how to use the latest FM tools and tech. Get answers to big questions for your facilities.
Held Wednesday, September 28 and Thursday, September 29, meet the innovators and solutions providers with the answers to your challenges.


Expo Schedule
Show times
Take part in the many activities happening on the expo floor.
Expo Hours
11:30 a.m. – 5:00 p.m.
11:30 a.m. - 1:30 p.m. Networking Lunch
12:00 p.m. – 4:15 p.m. Education Arena Presentations
4:45 p.m. Expo Scavenger Hunt Prize Drawing
Expo Hours
9:30 a.m. – 1:30 p.m.
9:30 a.m. – 10:30 a.m. Networking Breakfast
10:00 a.m. – 1:15 p.m. Education Arena Presentations
11:30 a.m. – 1:00 p.m. Networking Lunch
1:15 p.m. Expo Scavenger Hunt Prize Drawing
All Day Thursday Expo Cash Drops!


Expo Activities
On the expo floor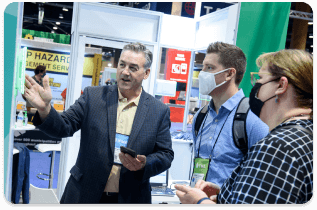 Exhibitors
World Workplace exhibitors represent FM solutions in multiple product/service categories, including access control, asset management, audio/visual, building automation, construction, disaster recovery, elevators/escalators, emergency response, energy management, exterior property maintenance, fire safety, flooring, FM service providers, food & beverage services, furnishings, health & wellness, HVAC/IAQ, landscaping, lighting, operations & maintenance, painting, pest control, real estate, roofing, security, software solutions, waste management, water management , and more!
See who's exhibiting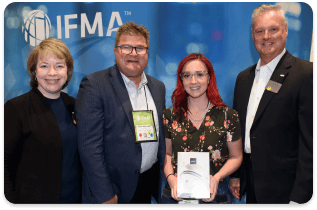 Scavenger Hunt
Win fabulous prizes while exploring the expo floor! Use the Expo Scavenger Hunt Game Card (provided in your conference bag upon onsite check-in) to visit each of the Expo Scavenger Hunt Sponsor booths to collect a stamp. Once all stamps have been collected, take your completed Game Card to the IFMA Central booth 1125. Must be present at the IFMA Central booth during the Expo Scavenger Hunt Prize Drawings and a Full Event Attendee to be eligible to win.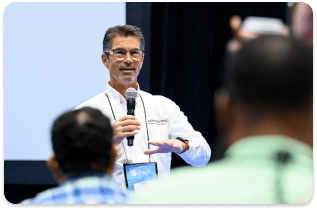 Education Arena Presentations
World Workplace is the all-encompassing educational event for FMs and we have learning opportunities around every corner – including the expo! Education Arenas are located at the back of the expo hall and there will be several presentations delivered during the expo.

Main Conference
Day 1: Wednesday, September 28
Stephan Duncan
A fundamental shift has taken place as companies have transitioned towards a hybrid workplace setting to address issues surrounding productivity, location preference, culture, costs, and safety. Join this session to learn about what hybrid work styles organizations are leveraging to meet their unique space needs. Hear how data sources can be leveraged to measure your hybrid spaces and modify them to maintain a flexible and employee-centric workplace.  
Location: Education Arena 1, Expo Booth 1152
Darlene Pope, President, North America | Planon 
The future of the workplace is smart! You've heard of smart buildings and digital workplaces, but what exactly does that mean – and what does it take to have a "smart workplace?" With the exponential growth in workplace technology and IoT data, it's hard to know what's needed and what's not. What technologies will help your workforce and your business thrive? What solutions will contribute to creating an enticing environment for people to return to work? How do you balance energy management, space management, and facility management? This session will help you sort through the hype and identify the fundamental elements you need to start your smart workplace journey and set the groundwork for adaptability and future growth!
Location: Education Arena 2, Expo Booth 1352
Kim Coffey, Senior Director, Sales and Corporate Partners | IFMA 

From fundamental FM training to the pinnacle certification that demonstrates mastery of FM – and everything in-between – see what lifelong learning can look like for your career. 
Location: Education Arena 1, Expo Booth 1152
Deborah Birx M.D., Chief Medical and Science Advisor | ActivePure Technologies 
Amy Carenza, Chief Commercial Officer |ActivePure Technologies 
Today's business leaders have high expectations of their building owners and managers to provide a higher indoor air quality (IAQ) standard without increasing their carbon footprint. In this presentation, former white house coronavirus task force leader, Deborah Birx, M.D., offers a glimpse into the last two years of this pandemic and how we can chart a new future living with COVID-19, including insights on how building owners and managers can embrace 21st-century IAQ solutions on the heels of the Biden-Harris Administration's Clean Air in Buildings Challenge. 
Location: Education Arena 2, Expo Booth 1352
Pam Matula, FMP, Director of Product Management | iOFFICE + SpaceIQ 
FMs have always been tasked to keep all aspects of the physical environment in balance. Flexible working has heightened this tension with increased pressure to reduce operational costs while increasing asset lifespans, pit comfort against efficiency, or weigh security against accessibility. Employees and visitors expect workspaces to instantly adapt to their changing needs, while organizations struggle to pinpoint the right amount and configurations of spaces to accommodate them. Join us to learn how to bet
Location: Education Arena 1, Expo Booth 1152
Steve DeBlois SR. Continuing Education Specialist | SERVPRO Industries, LLC
Purpose of Lesson: The Association Manager, Board Member and Property Manager gains a better understanding what to expect from a qualified mitigation/restoration professional. The lesson reviews the benefits of pre-disaster planning. Many communities/buildings experience damages on a regular basis. Unfortunately, one can't predict the timing or effects of natural disasters, mechanical system failures, broken pipes, or a compromised roofing system. These situations among other disasters that can occur in communities/buildings can humble even the most seasoned association/property manager, board member, unit owner and tenant. The underlying message for all these situations is to BE PREPARED.
Location: Education Arena 2, Expo Booth 1352
Ben Person, CMO | Nuvolo
Chevron Environmental Management and Real Estate Company (CEMREC) will discuss how they transformed their facility and equipment vendor management program. As part of this transformation, they selected a technology solution that was flexible and scalable. Chevron selected the Nuvolo platform, built on the enterprise service management platform ServiceNow, which offered a one stop shop for employees to interact with the organization. Discover how replacing their legacy asset and facilities management software and partnering with Sodexo and Deloitte, and leveraging Nuvolo's SaaS solution on the ServiceNow platform enabled lower total cost of ownership and higher quality for CEMREC. 
Location: Education Arena 1, Expo Booth 1152
Steve McKeon, Strategic Account Manager | Sunbelt Rentals
The future of temporary and backup power is starting now. A battery energy storage system (BESS) is a sustainable energy storage solution that collects and stores energy from the grid or a generator and then discharges it later. Learn how clean energy management solutions like battery energy storage systems can help you achieve your sustainability goals and provide long-term environmental and economic benefits.
Location: Education Arena 1, Expo Booth 1152
Erik Malmstrom, MBA/MPP, CEO | SafeTraces 
Prior to 2020, HVAC professionals were focused mainly on delivering comfortable temperatures and system performance in an energy- and cost-efficient way. That changed in 2020 when the COVID-19 pandemic highlighted the importance of indoor air quality (IAQ). 
 
Ventilation is top of mind, and the guidance of public health officials and academics is taken seriously by engineers. However, in the summer of 2021, another big topic appeared increasingly in the news: disasters from human-caused climate change. Engineers, traditionally laser-focused on reducing energy consumption, are now tasked with making the air in buildings safer while achieving sustainability goals like energy efficiency and reduced carbon emissions. 
 
Early in the COVID-19 pandemic, in the spring of 2020, ASHRAE recommended that buildings covered by the foundational standard 62.1 Ventilation for Acceptable Indoor Air Quality (most buildings) take three significant actions (among other guidance) to limit the potential for indoor transmission of SARS-COV-2: 
 
1. Increase filtration efficiency in air handling units (AHUs) 
2. Increase the fraction of outside ("fresh") air  
3. Operate HVAC systems for extended hours  
 
Viewed in isolation, each of these actions carries a price tag of increased energy consumption —aside from the potentially significant capital cost to implement these changes. The energy penalty associated with better IAQ is clear for many small, simple systems in design phases. However, in most practical building situations, the reality is much more complex. HVAC professionals are faced with a matrix of possible choices regarding IAQ and energy consumption more generally in buildings. 
 
This session will advance a new conceptual framework for balancing IAQ and sustainability tradeoffs detailed in co-authored content by SafeTraces:  
 
1. The Clean First Framework white paper (https://enverid.com/resources/learning/how-to-achieve-sustainable-indoor-air-quality-a-roadmap-to-simultaneously-improving-indoor-air-quality-meeting-building-decarbonization-and-climate-resiliency-goals)  
 
2. American Society of Mechanical Engineers (ASME) article, "The Energy Penalty of Safer Indoor Air" (https://www.asme.org/topics-resources/content/the-energy-penalty-of-safer-indoor-air) 
 
This session will also draw on SafeTraces' proprietary diagnostic data and performance assessments of real world buildings based on our patented aerosol tracing methodology, where we've supported major building owners and operators to evaluate the efficacy of IAQ strategies against the associated cost, energy, and carbon penalties. 
Location: Education Arena 2, Expo Booth 1352
David Hogland, President | ESFM 
Andrea Rossitter, Senior Director of Marketing | ESFM 
Kyle Arnold, Vice President of Business Development & Partnerships | Nudge 
Ineffective communications are costing FM companies more than just safety and productivity issues, they're a direct cause of turnover (and 40% of FM workers currently want to quit). 
 
For ESFM, the traditional top-down cascade of information was leading to a disconnected, unengaged workforce. 
 
Join leaders from Nudge and ESFM as they discuss inverting the communication model by implementing a mobile-first approach that led to fewer safety incidents, improved turnover rates, an increase in employee favorability of the company, and IFMA's George Graves Award for Facility Management Achievement in 2020.
Location: Education Arena 1, Expo Booth 1152
Main Conference
Day 2: Thursday, September 29
Dylan Roney, Strategic Partnerships | Emerald Prairie Health 
As a facilities professional, you are already having to do more with less... MUCH more. Often with much less. Join us for a lively discussion on creating a MORE safe, healthy, and sustainable workplace while experiencing LESS risk from dangerous chemicals, lost health-related productivity, and even less inventory to manage! In other words, more productivity and less mess.  
Location: Education Arena 1, Expo Booth 1152
Chloe Lee | Vaask 
Statistics tell us a huge swath of humanity does not wash their hands as frequently or thoroughly as they should, no matter how often they're reminded. If people aren't going to change their habits, what can we do to ensure that germ spread in public buildings is kept to a minimum? Given that 80% of illnesses are transmitted by our hands, a comprehensive strategy for hand hygiene is crucial in public spaces. 
 
Learn how to plan for high-touch, high-traffic areas and incorporate methods to promote healthier spaces, all the while reducing requirements on maintenance employees. 
Location: Education Arena 2, Expo Booth 1352
Josh Lowe, Co-Founder & Chief Solution Consultant | AkitaBox 
The biggest hurdle in facility capital planning is the lack of accurate data specific to your assets and your facilities. Yet one of the best ways to collect that data - a facility condition assessment - becomes outdated almost immediately after completion. It's time for a new approach. This is your guide to the new technology that's improving FCAs and capital
Location: Education Arena 1, Expo Booth 1152
David Dunn, Fleet and Facilities Management Division Manager | City of Orlando  
Tom Stevens, SE Region Chief Engineer | Macy's 
Kathy Womack, Director of Procurement & Facilities Management | Gro Development | YMCA 
Bob Sherry, Sr. Manager Facility Maintenance | CSL Plasma 
Brian Luongo, Senior Facilities Manager | Cushman & Wakefield / Carrier World HQ 
Facilities cleanliness and assets management are more critical than ever to retain talent and delight customers. Every industry is confronted with inflation, labor shortages, growing customer demand, and supply chain disruptions. 
Join this panel to hear facilities and service industry professionals discuss how they manage and service their assets to enable the brand experience for their staff and customers. 
Location: Education Arena 2, Expo Booth 1352 Sponsor: millicare
Quinn Heimann, Director of Strategic Sales | Aerotek, Inc. 
The rapidly evolving labor market is frustrating every kind of employer – from international corporations to small businesses. Extreme change and uncertainty in the future has paralyzed some and left many behind when it comes to critical workforce measures like development, attraction and retention of personnel. Hiring in today's market requires companies to look in the mirror and commit to the kind of proactive planning that simply wasn't required in the past. Quinn Heimann, Director of Strategic Sales for Aerotek, Inc., will discuss the state of the current labor market and tangible ways to build a lasting workforce. Aerotek is part of Allegis Group, the largest recruiting & staffing firm in North America. With 11 years experience delivering workforce solutions to top clients in the Facilities & Maintenance space, Quinn will explain how companies can continue to win talent and keep their employees happy in today's market. 
Location: Education Arena 1, Expo Booth 1152
Newsha Ghaeli, President & Cofounder | Biobot Analytics  
A continuously evolving pandemic has necessitated flexible workplace health strategies. But even for the most adept Facility Managers, it can be difficult to know when and how to adapt to the latest Covid-19 challenges. Reliable, comprehensive data sources play an invaluable role in informing these corporate responses and ensuring that a company's resilience is guided by facts. Come find out how wastewater monitoring can provide reliable, comprehensive data on workplace health while lowering operating costs and increasing revenue. 
Location: Education Arena 1, Expo Booth 1152
Mayra Portalatin, SFP, LEED AP O+M | IFMA Qualified Instructor  
Maureen K. Roskoski, CFM, SFP, LEED AP O+M, ISO 22301 Lead Auditor | IFMA Qualified Instructor 
As the importance of sustainability continues to evolve, earning the Sustainability Facility Professional (SFP) designation is becoming a must-have for all facility professionals. Are you wondering if the SFP is for you?  
Consider: 
99% CEOs from large companies agree that "sustainability issues are important to the future success of their businesses." [Harvard Business Review]

 

The built environment (capturing buildings and infrastructure) is responsible for 75% of global greenhouse emissions, with the building sector on its own accounting for 37%. [World Green Building Council]

 
IFMA has updated the SFP credential program to continue to help facility managers reduce the impact of their facilities on the environment. Stop by and hear about some of the exciting content updates that have recently been made to the SFP and how earning your SFP can earn you a seat at the table!  
Location: Education Arena 2, Expo Booth 1352
ALL TIMES LISTED IN US CENTRAL STANDARD TIME (CST)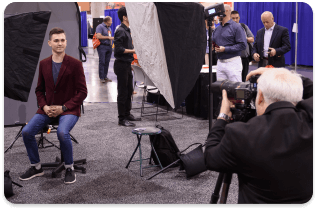 Professional Headshots
Have you looked at your profile picture lately? Is it a selfie? Does it look like you now or 5 years ago? Give your LinkedIn profile a fresh look by taking advantage of the free professional headshot booth.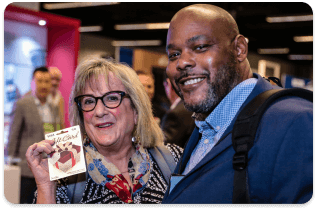 Thursday Expo Cash Drops!
Play the Thursday Expo Cash Drop game! Visit the 5 Cash Drop sponsor booths to collect a button. On Thursday, IFMA representatives will be walking the expo floor randomly dropping cash prizes on attendees wearing all 5 buttons. Be sure to prominently show off your buttons in the expo on Thursday to increase your chances of winning!
Stop by IFMA's booths
Whether you're old friends or new, we're excited that you are part of the IFMA community.
Be sure to stop by IFMA's booths!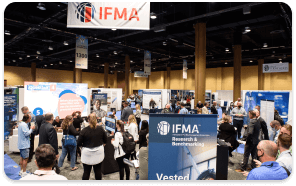 IFMA Central
BOOTH 1125
Learn about the exceptional resources available through the world's largest association for facility management. Chat with IFMA staff and volunteer leaders about member benefits, professional development, events and more.
Nashville Chapter
BOOTH 1717
The Nashville Chapter of IFMA is thrilled to welcome you to Music City! Visit booth 1717 to learn more about the Nashville Chapter's programs and activities.
Denver Chapter
BOOTH 1725
World Workplace 2023 will be in Denver! Our friends at the Denver Chapter can't wait to give you an inside scoop on planning a fun-filled trip to the Mile High City!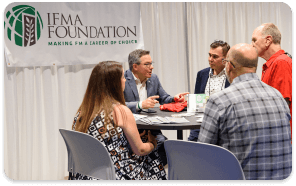 IFMA Foundation
BOOTH 1701
The IFMA Foundation works for the public good in support of Facility Management higher education, students studying Facility Management and related fields, research critical to the profession, and increasing awareness of facility management and making FM a career of choice.